Tooth Extractions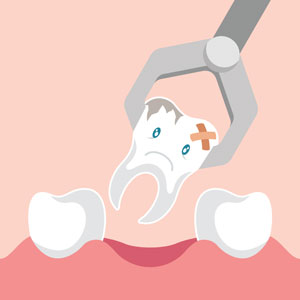 At Fraser Shores Family Dental, we believe in saving existing teeth whenever possible. In certain cases, however, it may require an extraction. When teeth are infected (abscessed), have severe decay, disease or crowding or you've experienced a trauma, our team is skilled in their gentle removal, including wisdom teeth.
Wisdom Teeth Extractions
Over 80% of wisdom teeth are estimated to require removal. This common procedure can be completed in the comfort of our practice. These teeth, which are the last to erupt, are generally removed in the late teen years or early twenties. You may have anywhere from 1-4 wisdom teeth.
When your wisdom teeth grow, there is usually not enough space to accommodate them. They may be trapped under the gums and grow in improperly. Other teeth can be pushed around, causing pain, inflamed gums, bite problems or misalignment of the teeth. At the first sign of discomfort, your wisdom teeth should be removed. If removal is delayed, other problems can develop that require more expensive and complex forms of treatment.
What to Expect
We'll determine whether your teeth must be removed after taking X-rays and performing a thorough evaluation of your gums and general oral health. Once we've decided to proceed, you'll have a personalised treatment plan so that your procedure and the subsequent healing are simple and straightforward. We'll answer any questions you have along the way.
Want to Learn More?
If you're ready to show off a healthier smile, contact us today! Same-day appointments are available.

Tooth Extractions Hervey Bay QLD | 07 4124 1671