Restorative Dentistry in Hervey Bay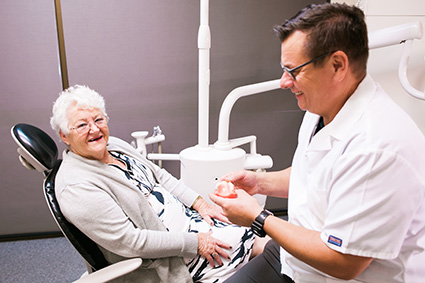 Your Best Smile Starts Here
You deserve to have a healthy, beautiful smile for life, feeling confident in the way you look.
The Fraser Shores Family Dental team offers a range of dental solutions to suit the needs of your entire family.
The restorative dentistry services we provide include crowns, dental implants and All-On-4®.
Dental Crowns
If you have a single tooth that is affected by damage, a dental crown may be the ideal solution. If you've experienced trauma or the tooth has weakened from decay, cavities or cracks, a crown can cover the tooth like a cap, giving it the protection and strength it needs.
The procedure for a crown takes place over two visits. The initial appointment serves as the preparation phase. State-of-the-art-technology assists in taking impressions of your teeth, which are then sent to our laboratory to custom-make your crown. During the second visit, your crown will be seamlessly affixed to the damaged tooth.
Dental Implants
Dental implants have revolutionised the industry, making them the gold standard in tooth replacement all over the globe. At your initial consultation, we'll conduct a comprehensive examination of your mouth to determine your suitability. At the next appointment, the implant is placed in the jawbone, and then requires a healing time. You'll receive a temporary crown or bridge to wear meanwhile. After the implant site has healed, you'll return to have a permanent device placed.
All-On-4
All-On-4 can solve the problem of a collapsed bite, advanced gum disease or decay, failed crowns, bridges, root canals and uncomfortable dentures. All of your teeth are replaced by having four dental implants on which an upper and lower arch can be affixed. It's cost-effective since just four implants are required, and 2-3 days treatment is all that is needed.
Want to Learn More?
Contact us today to learn more about whether restorative dentistry in Hervey Bay can give you back your smile!

Restorative Dentistry Hervey Bay QLD | 07 4124 1671