Dr Shreeragh Sagar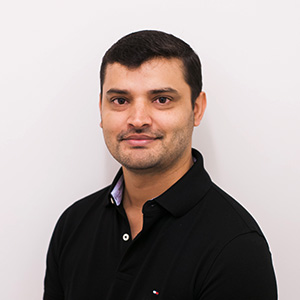 Dr Sagar always wanted to become a dentist and was encouraged by his parents to pursue his dream. The most fulfilling part of his profession is getting people out of pain, improving their smiles and helping to improve their function. Sagar has been in Hervey Bay for many years after settling in the beautiful area with his wife. He is well-known for a quick smile and gentle compassionate personality.
After coming to Hervey Bay once I knew I would stay, I love to be able to help this great community.
Obtaining a Dental Education
In 2004, Dr Sagar earned a Bachelor of Dental Surgery. Currently, he is studying for a Master degree in Oral Implantology at Goethe University in Frankfurt, Germany. Dr Sagar relishes staying abreast of the latest developments in dentistry and to improve his skills, he subscribes to the Australian Dental Journal and attends courses regularly.
Outside of Work
When he's away from the office, Dr Sagar enjoys playing cricket, following sports and travelling. He also likes to spend time with family and friends.

Meet Dr Shreeragh Sagar | Fraser Shores Family Dental