Children's Dentistry for Hervey Bay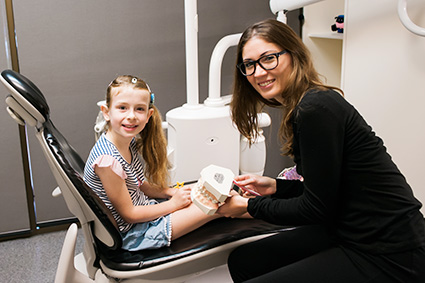 At Fraser Shores Family Dental, our team delights in caring for children. You can familiarise your child with regular checkups as early as age 2.
Taught the proper oral hygiene habits early, your child can have a hand in preventing dental issues from occurring before they become bigger and costlier.
We'll make sure they have fun and enjoy their visits with us.
All Ages Welcome
You and your child will receive information on how to have a pain-free, comfortable checkup, caring for baby teeth and secondary teeth, what to do with decay in baby teeth, maintaining spaces if teeth are lost prematurely and more. If your child grinds their teeth, we can custom-create a mouthguard for them to wear.
If you're expecting, we can discuss how to care for your oral health throughout your pregnancy.
Coverage for Children's Dentistry
The Child Dental Benefits Schedule covers up to $1000 in dental services every two years for children who are eligible.
HBF gives a 100% rebate on preventative dental services with an annual limit applied.
Bupa gives a 100% rebate on children's general dentistry.
CBHS gives a 100% rebate on preventative dentistry and sports mouthguards.
HCF gives a 100% rebate on preventative and sports mouthguards.
We're Here for Your Family
Your family's dental health is our primary focus. Children deserve to have long-lasting oral health and a bright, gorgeous smile. Contact our practice today!

Kid's Dentist Hervey Bay QLD | 07 4124 1671