About Us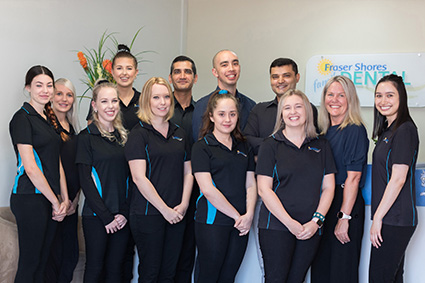 We're located in beautiful Hervey Bay and provide a range of family dental solutions to suit the needs of all ages in our community. From caring for children to retirees, we've had more than 30 years of experience in looking after you and your dental needs.
Our practice is well-known, established in 1983. Our commitment to achieving positive outcomes for all our patients has seen us treating generations of Hervey Bay families. Dr Colin & Celeste Fraser came to work with us and fell in love with the area many years ago. They are now raising their children in Hervey Bay
Helping You Feel Comfortable
You can rest assured that every member of our team is highly trained and cares about helping you to reach your oral health goals. Even those who have felt nervous about visiting the dentist in the past soon feel at ease with our experienced, friendly staff. We strive to make you feel comfortable throughout your treatment.
Whether you require a routine check, would like to attain a brighter smile with teeth whitening or are worried a toothache might mean you need root canal therapy or a filling, we're here to assist you and your family.
Book Your Time Today!
You'll find the care and attention you've been looking for from our experienced professionals. We even offer same-day appointments to those in need of immediate attention. Contact us today to book a time with our gentle, compassionate team! Health fund coverage can be used for your visit.

Fraser Shores Family Dental | 07 4124 1671